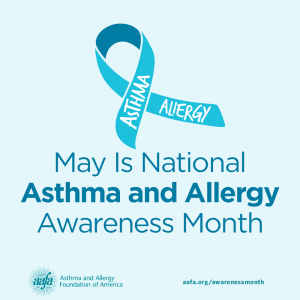 May is peak allergy and asthma season for most people in the U.S., which is why the Asthma and Allergy Foundation of America (AAFA) declared May "National Asthma and Allergy Awareness Month." Nationally, about 25 million Americans have asthma, 1 in 5 of those are children.
Asthma is one of the most common and costly diseases in the country, and it is also one of the top causes of missed school days in children ages 5 to 17. In 2019, the National Center for Health Statistics reported that Black children are three times more likely to have asthma, and five times more likely to visit the emergency room due to asthma than white children. According to the American Lung Association's 2021 State of Air report, there were 18,071 cases of pediatric asthma, and 108,246 cases of adult asthma in Allegheny county in 2017, 2018, and 2019.
ACHD recently received a grant from the PA Department of Health to fund the Allegheny County Asthma Control Program (ACAC). This is a four-year grant that builds on the work of an asthma taskforce that was convened as part of the Plan for a Healthy Allegheny. The ACAC uses evidence-based strategies to prevent asthma illness and reduce disparities. ACAC's overall goal is to improve the reach, quality, effectiveness, and sustainability of asthma control services in Allegheny County.
The following ACHD programs are partnering for the implementation of the ACAC: Air Quality, Chronic Disease and Injury Prevention, Chronic Disease Epidemiology and Safe and Healthy Homes. ACAC is also partnering with the American Lung Association, Duquesne University's School for Integrative Health and Women for a Healthy Environment. We look forward to welcoming a Program Manager in June.
The ACAC is implementing the EXHALE strategies that were developed by the National Asthma Control Program of the Centers for Disease Control:
E-Education on asthma self-management.
X-eXtinguishing smoking and exposure to secondhand smoke.
H-Home visits for trigger reduction and asthma self-management education.
A-Achievement of guidelines-based medical management.
L-Linkages and coordination of care across settings.
E-Environmental policies or best practices to reduce asthma triggers from indoor, outdoor, or occupational sources.
For more information, please visit the National Asthma Control Program website.