#REACH4Allegheny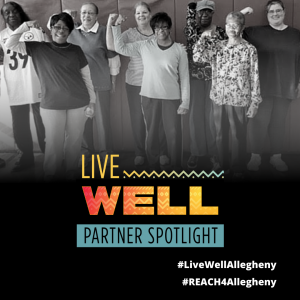 The Allegheny County Health Department is teaming up with local and national partners to address disparities in African-American communities. The REACH program, a Centers for Disease Control and Prevention (CDC) -funded initiative, aims to achieve health equity and prevent chronic disease.
In order to spread awareness, #REACH4Allegheny Wednesdays have been created to spotlight REACH partner organizations.
See below for a brief spotlight on two REACH partners:
Youth Opportunities Unlimited is a non-profit organization dedicated to empowering youth through education and mentoring. They offer after-school, in-school and summer programming to focus on academic and behavioral improvement. They received a small grant from the REACH Initiative and are teaching children about different cultures.
As part of the program, kids learn about a culture and then eat and cook a meal associated with that culture. For instance, they cooked a Chinese meal that consisted of lo mein with chicken and shrimp fried rice with bubble tea. Students also learned about Jamaica's history and culture and enjoyed a Jamaican dinner courtesy of 2 Sisters 2 Sons restaurant in Sharpsburg. The youth later prepared jerk chicken, "Rasta Pasta," steamed cabbage, rice and peas, fried plantains and Jamaican rum cake.
Follow them on Facebook to catch up on all their activities –> YouthOppor Development | Facebook.
Allen Place Community Services offers virtual fitness classes, including the "Dance and Be Fit" program led by the king of line dancing, Roland Ford. Founder and Retired Nurse Jerry Allen is committed to providing health and wellness programs for older residents on the Northside and beyond. The organization also offers a weekly Bible study for your spiritual health via Zoom. Check out their website for more information: https://www.allenplacepgh.org
#LiveWellAllegheny
#REACH4Allegheny