This is the latest Live Well Allegheny e-update. Please find a variety of information that will be helpful to you in your efforts and can also be shared within your own networks. As always, you can find a great deal of information on our website, including our Partner Resources.
We now have 214 community partners, 68 municipalities, 53 restaurants, 33 workplaces and 18 school districts united in our efforts to make Allegheny County healthy for all!
Be sure to like and follow the Allegheny County Health Department on Facebook and Twitter to stay up-to-date on all ACHD news.
A Letter From Our Director
Greeting from the Director's Corner.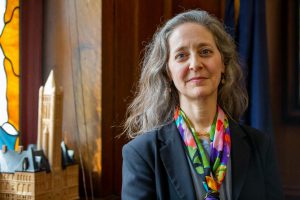 June is National Great Outdoors Month, which means I get to discuss one of my great passions: Visiting our many beautiful parks and spending as much time as possible outside.
I imagine that we all have our personal favorite outdoors spots. For me, I live close to Frick Park and regularly walk, hike and run its many valleys, meadows and trails. Not event that large snake, recently featured on the news hanging from a tree in Frick Park, could keep me away!
Spending time in nature is not only fun, it has real health benefits that not only put a smile on your face but can lengthen your life.
Physically, being outside boosts Vitamin D levels, which is good for your immune system. It can lower your blood pressure and lead to better sleep patters at night. It also helps keep you fit by burning calories and building muscle.
Mental benefits include increased calm and happiness and lower levels of stress, depression and anxiety. Being in nature is also a good way to clear your head and boost creativity.
In fact, being outdoors provides so many measurable and immeasurable benefits that there is a national movement to dispense Park Prescriptions (Rx). What you ask is a Park Prescription? It is when a health or social service provider encourages their patients/clients to spend time in nature with the goal of improving their health and well-being.
Some local doctors, including the practice where I worked before coming to the Health Department, issued "park prescriptions" for patients in coordination with the Pittsburgh Parks Conservancy! After getting the Rx – there are only three steps to filing it – 1) find your nearest park (online or with a map), 2) plan your trip and 3) get outside. You can find out more about this program at: https://pittsburghparks.org/park-rx/.
As Allegheny Count residents, we are blessed to have some of the most picturesque scenery in the world. From the rolling hills and forests of North Park to the waterfalls at Falls Run Park; from the meadows of of Boyce park to the gardens of Hartwood Acres; from the pools of Settlers Cabin to the miles of riverfront trails in Downtown Pittsburgh and elsewhere- we have it all here. That's why I often bring my running gear to my office Downtown, so I can slip out for a rejuvenating run to the Point and return to work invigorated.
For many reasons, we are lucky to live in Allegheny County. So this June, during National Great Outdoors Month, let's all be thankful for the endless natural blessings we get to enjoy daily.
I am writing a Parks Rx to all of you reading this newsletter! Go outside and take in the parks! Thank you. Be safe and be kind.
See you here next month, everyone. Be safe and be well.
Dr. Debra Bogen
Director, Allegheny County Health Department
Health Observances
June is National Great Outdoors Month
Did you know Allegheny County is home to nine parks? Enjoy the outdoors by visiting your local park where you can enjoy golf, fishing, swimming, kayaking, and much more! Visit the link below to find the closest park to you & get outdoors!
June is National Safety Month
Who is your #SafetyHero? June is National Safety Month. Join the National Safety Council and recognize safety professionals – or anyone who inspires you to be safe: http://bit.ly/nscnsm2021 #NSM
What's Happening in Public Health
Do you have questions after getting a COVID-19 vaccine? Here are the answers to some of the questions we hear most.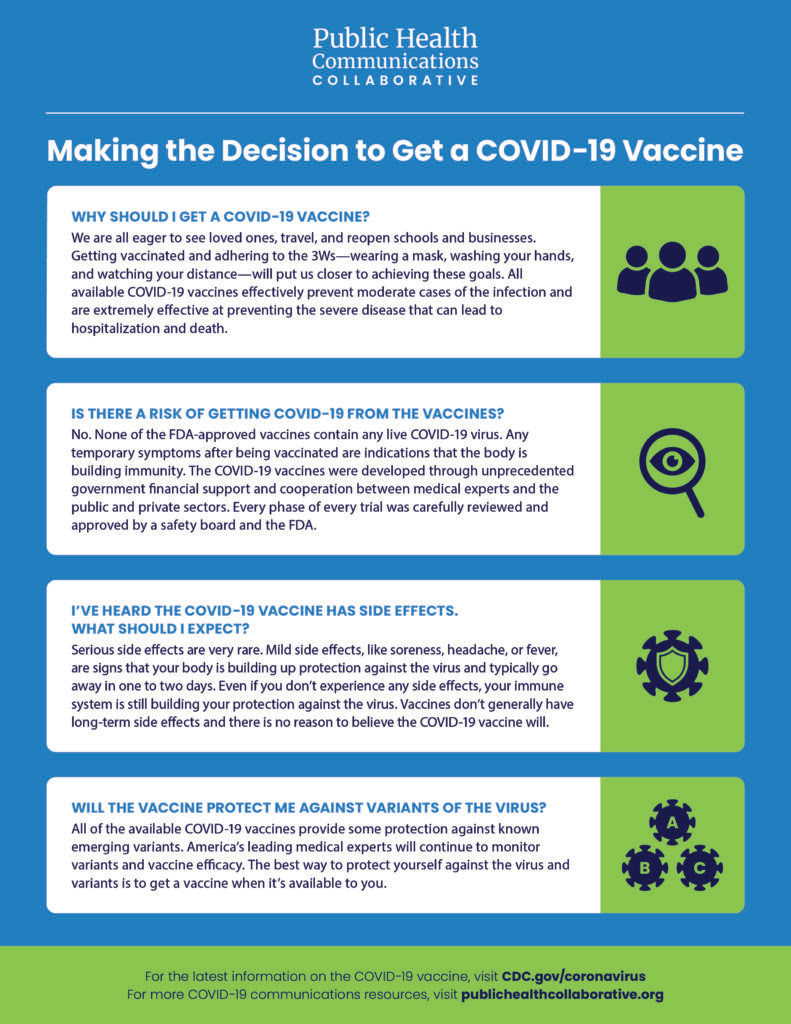 Partner Information & Opportunities
Community partner Beverly's Birthdays is organizing a free community baby shower in several locations in Allegheny County. To register go to:
Join the #SummerofPlay
The Playful Pittsburgh Collaborative is partnering with Trying Together to promote a "SummerofPlay!" Adults benefit from play too- and we can model social, emotional, and physical health and wellbeing for our children. To find out more ways you can play, visit @playfulpittsburgh on Facebook or Instagram.
Public Meeting, Open-House Events Scheduled to Discuss Trail Feasibility Study
The Department of Public Works will be conducting an open house to discuss the Turtle Creek Connector Trail Feasibility Study. If constructed, the trail would link Braddock, East McKeesport, East Pittsburgh, Monroeville, North Braddock, North Versailles, Pitcairn, Rankin, Trafford, Turtle Creek, Wall and Wilmerding.
The purpose of the meeting is to obtain public input and to present an overview of the ongoing study, why it is needed and the environmental and engineering features within the corridor. Representatives from Allegheny County and its design consultant, WSP, will answer questions about the study.
Allegheny County and WSP will be hosting two open-house events:
Tuesday, July 20, 2021
5 PM – 7 PM
Pitcairn Park Building
549 Broadway Boulevard
Pitcairn, PA 15140
Saturday, July 24, 2021
11 AM – 1 PM
Braddock Civic Plaza
451 Braddock Avenue
Braddock, PA 15104
In accordance with the American with Disabilities Act of 1990 (ADA), the online meeting and open-house events will be accessible to individuals with disabilities. If you or an individual with whom you are familiar does not speak English as their primary language and who has a limited ability to read, write, speak or understand English, or requires other special assistance to learn about the study and provide feedback, please call Brent Wasko at 412-350-2451.
All of Us Pennsylvania is a partner of the All of Us Research Program, an exciting new initiative from the National Institutes of Health (NIH). The mission is simple: To speed up health research and medical breakthroughs.
The Precision Medicine Initiative examines influential factors of human health and empowers participants through health literacy and research participation. All of Us aims to speed up health research and medical breakthroughs by creating a database of health information provided by participants from various backgrounds.
Completion of the the enrollment process take ~1.5 hours with about 45 minutes of consent videos/surveys online followed by a (scheduled/walk-in) 20-minute clinic visit for body measurements + biospecimen samples. Participants are reimbursed with a $25 gift card before they leave as well as bus passes for their commute, a certificate of completion, and current body measurements/blood pressure readings.
All of Us Pennsylvania is now safely seeing participants in a handful of locations in Allegheny County.
For more information visit: https://joinallofuspa.org
The Allegheny County Health Department is building on its 2019 health survey to understand health priorities and concerns as part of its next Community Health Assessment. Participate through this online survey today.
Interested in partnering with ACHD? Feel free to share this link or if seeking a paper version, community partner organizations may request copies here.
New Live Well Allegheny Community Partner!
A warm welcome to the new Live Well Allegheny Community Partners
A warm welcome to our new Live Well Allegheny Community Partner:
Life in Motion is a wellness center and gym that is operated by physical therapists. Life in Motion is designed to be accessible and appropriate for people with mobility issues, balance problems, neurological conditions or any person who needs more attention than an average gym can provide (including seniors). Life in Motion is also a great continuation of care after physical therapy ends.
You can learn more about our new partners' commitment to health and wellness by looking each up on the Search Local Resources web page.
Live Well Allegheny Story
#REACH4Allegheny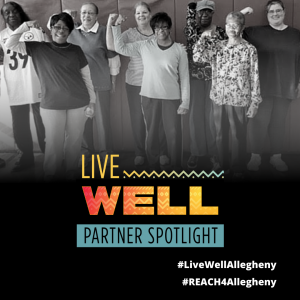 The Allegheny County Health Department is teaming up with local and national partners to address disparities in African-American communities. The REACH program, a Centers for Disease Control and Prevention (CDC) -funded initiative, aims to achieve health equity and prevent chronic disease.
In order to spread awareness, #REACH4Allegheny Wednesdays have been created to spotlight REACH partner organizations.
See below for a brief spotlight on two REACH partners:
Youth Opportunities Unlimited is a non-profit organization dedicated to empowering youth through education and mentoring. They offer after-school, in-school and summer programming to focus on academic and behavioral improvement. They received a small grant from the REACH Initiative and are teaching children about different cultures.
As part of the program, kids learn about a culture and then eat and cook a meal associated with that culture. For instance, they cooked a Chinese meal that consisted of lo mein with chicken and shrimp fried rice with bubble tea. Students also learned about Jamaica's history and culture and enjoyed a Jamaican dinner courtesy of 2 Sisters 2 Sons restaurant in Sharpsburg. The youth later prepared jerk chicken, "Rasta Pasta," steamed cabbage, rice and peas, fried plantains and Jamaican rum cake.
Follow them on Facebook to catch up on all their activities –> YouthOppor Development | Facebook.
Allen Place Community Services offers virtual fitness classes, including the "Dance and Be Fit" program led by the king of line dancing, Roland Ford. Founder and Retired Nurse Jerry Allen is committed to providing health and wellness programs for older residents on the Northside and beyond. The organization also offers a weekly Bible study for your spiritual health via Zoom. Check out their website for more information: http://www.allenplacepgh.org
#LiveWellAllegheny
#REACH4Allegheny