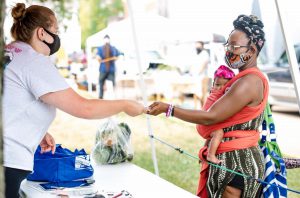 The Food Trust's Food Bucks program, in partnership with Just Harvest and the Greater Pittsburgh Community Food Bank, gives shoppers $2 in food bucks coupons for every $5 spent in food stamps. Launched in 2010, and originally only available in Philadelphia, this healthy food incentive program has expanded to a statewide initiative, with a focus on the Pittsburgh region and western Pennsylvania. The Food Bucks program is offered in over 50 retail settings, including farmers markets, mobile markets, corner stores and supermarkets.
The Food Bucks program allows Supplemental Nutrition Assistance Program (SNAP), commonly referred to as food stamps, benefit holders to stretch their budgets to include fresh, healthy, and local fruits and vegetables.
Visit The Food Trust to explore a map to see where, when and how you can earn Food Bucks to purchase fruits and vegetables, and watch the video below to learn more about the Food Bucks program.
Farmers markets, corner stores, supermarkets or other retailers serving SNAP-eligible populations can apply to distribute Food Bucks by contacting Emily Schmidlapp at eschmidlapp@thefoodtrust.org or 215-575-0444, ext. 5178.